Executives » Brian A. McLaughlin
Brian A. McLaughlin, Founder & Principal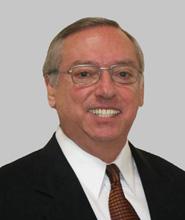 Mr. McLaughlin has directly managed the planning, design, development, construction, operations, and disposition of 20 large-scale (400 to 4,000 acres) resort, recreational, and residential communities. Additionally, he has directly managed:

27 residential projects
7 resort villa rental projects
5 commercial centers

13 commercial properties
7 hotel and timeshare projects
These large-scale projects include numerous amenity operations of various types including: golf courses, tennis centers, marinas, casinos, and food and beverage facilities.
Mr. McLaughlin is recognized in the industry for his success in dealing with turnarounds, workouts and asset dispositions. Included among these are:
As president of Atlantic Gulf Land Company, he was responsible for the development, operations, and disposition of over 55,000 acres of land and over 30,000 scattered, residential lots located in 11 separate, tertiary-market communities throughout Florida and in Tennessee.
He directed the turnaround of Hilton Head Plantation – a 4,000 acre recreational community on Hilton Head, SC; and the turnaround and subsequent disposition of The Hilton Head Company, the largest real estate development company on Hilton Head Island with over 7,000 acres of land under development.
He managed the turnaround of Kapalua Land Company, developer of this luxury 750 acre destination resort community on Maui, Hawaii, a preferred vacation and second home location for international celebrities and world renowned sports figures; and he also managed the disposition of the Kapalua Bay Hotel. While under his management, Kapalua was selected as the best resort in the world by several rating agencies.
He led the turnaround and the disposition of Palm Beach Polo and Country Club, a 2,300 acre recreational and second home community in southern Florida with the largest polo and equestrian facilities in the world. He also directed the turnaround of FPA Corporation's Southern Division, including seven large-scale resort, recreational, and residential communities throughout south Florida. This included managing the disposition of the Palm-Aire Hotel and Spa. During this involvement, one of his residential projects received a national award for production building from Builder Magazine.
In the Caribbean, he led the turnaround of Palmas del Mar, a 2,850 acre destination resort community on the southeast coast of Puerto Rico and several projects in The Bahamas. One of these properties was selected by Condé Nast Traveler for its "Hot List of Best New Hotels in the World" while under his management. He has managed companies in Abu Dhabi and Dubai, and has provided advisory services to the Government of Nevis, West Indies, Puerto Rico, and many others.
Mr. McLaughlin has been a member of the Urban Land Institute for over thirty years and has served on its Recreational Development Council, its Residential Development Council, and the Florida District Council. From 2002 through 2005, he served as chairman of ULI's Recreational Development Council (Gold Flight). He is a licensed real estate broker in Florida and Colorado and is a Florida licensed mortgage loan originator.
Mr. McLaughlin received his Bachelor of Arts degree Magna Cum Laude from Harvard University, and his Master in Business Administration degree With Distinction from Harvard Business School. He studied law at Boston College and Suffolk University Law Schools and received a Master of Science degree from The George Washington University.